Vale Mrs Rob




Expeditioner Family Liaison Officer




1967 – 1981
Shelagh Robinson, or Mrs Rob as usually known to ANARE expeditioners, passed away peacefully in Melbourne on the 2nd June 2010 at age of 95 years.
Mrs Rob was the expeditioner family liaison officer from 1967 to 1981, and was well known to many who worked the ANARE.
In the summer of 1975/76 Mrs Rob was one of the first group of women to visit the Australian Antarctic Territory with official approval from the Australian Antarctic Division.
In 1993 the last of the huskies were removed from Mawson station. Mrs Rob edited the popular 'Huskies in Harness "a love story in Antarctica" which was published in 1995, and still available on line.
Mrs Rob was actively involved in ANARE Club events until her death. She was a regular guest at Midwinter dinner functions, and always liked to hear updates on ANARE people and events.
 She will be missed.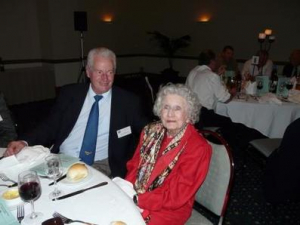 Others wrote:
It is certainly sad to recognise the passing on of Shelagh Robinson. She was certainly a Great Lady and a most accomplished Person in all that she did.
Shelagh shared her talents widely. The memory of this sharing is recorded in so many ways. It is most fortuitous that such solid Memorial of her Contribution is contained in the ANARE Club Journal, AURORA. The standard she established as Editor, the record of her work as Personnel Officer, her Antarctic experience, Wandering Explorer writings, her Paintings, and Authorship of "Huskies in Harness" and more, are revealed in the format and pages of our Journal. We know that she was rightly proud of AURORA.
Shelagh stayed with us when she travelled to Brisbane on various occasions, and we proudly display one of her paintings.
VALE Shelagh
.
David Carstens
Tributes from Phil Silvestro and Noddy Fletcher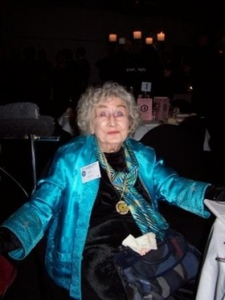 Melbourne MWD 2006. Photo Phil Silvestro.
Dear All
2010 it's a sad year for ANARE as 2 Icons have passed away.
Angus Robinson called me this morning to advise that Mrs Rob has unfortunately passed away, she passed peacefully in her sleep.
Margaret Whitelaw & I saw Mrs Rob in Melbourne when we went to the Dr Phil Law Tribute. 
Mrs Rob was in good spirits and a pleasure to talk to, we talked about the sign we made for her.
As some of you may recall, Mrs Rob used to give a painting to NSW MWD to raffle off.  This year Her Son Angus will be giving us a painting from her.
Thank You to Mrs Rob. She will be sadly missed by everyone
Phillip Silvestro (NSW Branch President) 
---
Mrs Rob was a wonderful lady who lived a rich and rewarding life and her legacy will live on in the hearts of many an expeditioner.
Ralph 'Noddy' Fletcher
The following tribute was written by Ralph 'Noddy' Fletcher and published in the Aurora journal in June 2010.
Shelagh Robinson or as we affectionately knew her -Mrs Rob.
When I think or Mrs Rob I think of compassion, kindness, co-operation, consideration. She was by nature a caring lady who always acted with the best intentions. Many times she had to use tact and diplomacy due to situations between expeditioners and their family or loved ones back home, not an easy assignment. The tyranny of distance and isolation can magnify many things.
And yet to Mrs Rob this was all part of the thrust and parry of her job and she loved it. As Welfare Officer at the Antarctic Division she became completely absorbed and involved, and was an integral part of each stations expedition, sharing their worries, their joys and their achievements.
Mission Impossible is how I would best describe her role, quite simply you can not be all things to all people but boy did she give it her best shot! Requests for all sorts of things;-  prices for holidays, cars, real estate, stocks and shares, results of various events were quite common. Cards, flowers chocolates for special occasions, sometimes even lingerie for the wives. The list was endless and yet she always came up trumps.
The down side could be the "Dear John" messages or when there were accidents and even deaths at stations as it was her duty to inform the relatives. The monthly station newsletters had to be edited put in to some meaningful form and sent out to friends and family. She usually had to put some explanatory notes in with them due to nicknames and in house jokes.
We used to have a 5 word code book that helped to condense messages sent back home, this is before the days of fax and internet. Some of the smarter ones had put their own meanings on these codes, what look innocuous on the surface could have sexual overtones. Other to save costs sent the same message to multiple addressees. Some even sent the same message to their wife and their Mistress. Mrs Rob had to ensure the correct message went to the right addressee. The job kept her on her toes!
In 1976 Shelagh came south on the Thala Dan with Jutta Hosel and Elizabeth Chipman, a voyage that I shared with her. To her it was the trip of a life time, a reward for years of hard work. She was able to set foot on the place she had such an association with even though she had never seen it first hand. She was captivated by its beauty. They were the first Australian women to officially visit one of the Antarctic continent bases. She also went on relief voyages to Macquarie Island in 1972 and 1977. In 1978 when I was stationed at Macquarie Island she flew overhead on Midwinters Day in an Orion. The plane flew low over the isthmus and I mean low. I think Shelagh was quite concerned for her welfare at the time.
During 1976 the cost of phone calls went from $1.00 a minute to $1.50 and the cost of each word we sent back increased from 3 cents to 6 cents.
I suddenly found myself in a running word exchange with Senator J.J.Webster, Minister for Science and Technology sending lengthy messages challenging the decision and soon ran up an extraordinary communications bill. On my return Mrs Rob had defrayed some of my costs by taking credits from other expeditioners who had not used all of their allocation. She did so because she said "Noddy you championed the cause for others!"
She hosted pre voyage BBQ's at Montmorency. They were looked forward to with anticipation. It was not unusual for at least a couple of hundred to turn up. The Antarctic Wives brought along salads and fruit, ANARE chefs cooked up a storm and it was a great way for all of us to meet socially before sailing south. Often the crews of the Danish vessels would attend and add to the occasion.
Mrs Rob loved painting. It was not uncommon to receive a Christmas cards with her artwork. Many an expeditioner has one of her paintings proudly hanging at home and she was generous in donating them to the ANARE Club, particularly in Sydney.
I edited our club magazine Aurora once and once only, that was enough for me.
Mrs Rob, God bless her did it for a decade. She kept an open mind on it all, being a woman in a male dominated environment. She strove for editoral independence and set out to gather current news as well as past ANARE history. The ANARE Club will be forever in her debt. She also was the Editor of the book, Huskies in Harness.
When there were reunions Mrs Rob was there sharing pride of place. The ANARE Club and The Antarctic Wives Association as well as so many past expeditioners are indebted to her for her loyalty and devotion to duty. This was justifiably recognized with the awarding of the British Empire Medal for her welfare work with the Antarctic Division. In her life she achieved so much and we are all the better for having known her.
'Vale Mrs Rob' – A wonderful lady.
https://www.anareclub.org/wp-content/uploads/2020/07/ANARE-Club-logo-Web-1.png
0
0
anareoffice
https://www.anareclub.org/wp-content/uploads/2020/07/ANARE-Club-logo-Web-1.png
anareoffice
2020-07-24 23:35:04
2020-07-24 23:38:21
Mrs Rob