Vale Ralph Dyer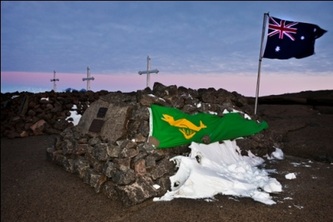 | | | |
| --- | --- | --- |
| Station | Year | Season |
| Mawson | 1960 | Winter |
| Mawson | 1966 | Winter |
| Macquarie Island | 1968 | Winter |
| Davis | 1971 | Winter |
Dear old explorers,
Our ranks thin again! Our much-loved chef, Ralph, died in his sleep early this morning. His friend Marjory phoned me at mid-day with the sad news.
As you may recall, he suffered a stroke on his 90th birthday last year and has been in a Nursing Home in Young, NSW, since that time. His loss of independence was a major challenge.
Marj said he treasured the photo collage George prepared and cards and messages we sent him at the Nursing Home.
Ralph requested no funeral or memorial gathering; we will each remember him in our own way. He did four winters with ANARE: M60 & 66, MI 68 and D71.
We all remember his 7 day per week kitchen contributions at Mawson and the aftermath of mid-night chompers he often discovered in the morning.
Amid the ups and downs of life, I hope this sad message finds you in good spirits.
All the best,
Ian
email received from Ian Bird, 20 March 2022