Epping Tracks at the Epping Hotel
Opposite Epping Railway Station
58 Beecroft Rd Epping, Tel (02) 9876‐1855
1130 hrs to 1600 hrs
(venue available until 1700hrs)
Your NSW Council cordially invites you, your partner and your
guests, to attend the 2022 Sydney Midwinter Lunch.
If you paid for the 2021 event,
you do not need to pay again. However, please let Lucinda know how many of you there will be, and their names, on this response form. If you cannot recall, please contact Lucinda (lucinda.coates@riskfrontiers.com).
* If you are unable to attend and would like a refund on your 2021 ticket,
please return this response form with banking details as set out below to lucinda.coates@riskfrontiers.com for the Treasurer to process.
* For new tickets in 2022,
if your Club membership is current we can admit you and your guests at members' prices. As an incentive to join, the NSW Branch allows non‐members
(who otherwise qualify for membership) to attend on the understanding that they, plus any guests, pay a surcharge. This year we are able to heavily subsidise members: you pay less this year than any other year! Please return this response form with the details as set out below to lucinda.coates@riskfrontiers.com.
Member $55 per person, member & guests
Non‐member $75 per person, non‐members & guests
ALL new payments and RSVPs on 2021 tickets are to be received by Friday 10th June. Pay before Wednesday 1st June and you receive a free 2021 commemorative mug celebrating the 70th birthday of the ANARE Club!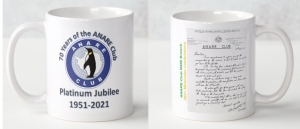 You can open this Mid Winter Lunch Response form. Then print it, fill it out and post to:
Lucinda Coates,
ANARE Club – NSW Branch,
8/ 6‐8 Donald Ave,
Epping NSW 2121
Or
Fill out the form below and hit submit. This will send your details to Lucinda.