Vale Richard George McNair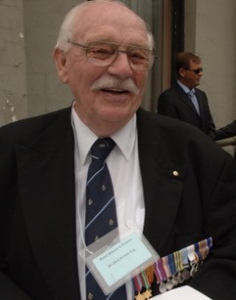 Dick in 2006 at Royal Society of Victoria event
| | | |
| --- | --- | --- |
| Station | Year | Season |
| Heard Island | 1953 | Winter |
| Mawson | 1955 | Winter |
| Macquarie Island | 1962 | Winter |
Dear members
It is with sadness to inform the members of the ANARE club, the RICHARD GEORGE MCNAIR, dob. 2/12/1928, VIC, ANARE Member, has passed away on Monday morning peacefully in his sleep at 1.30 a.m. at home with wife and son by his side.
Please contact widow, Elfriede McNair via the Club's Membership Officer
Kindest regards
Elfi
Email received from Elfriede McNair 7 September 2020
As a young man, Dick McNair joined the RAAF in 1944 and after the war he joined Ansetts as a cook in their hotel on Daydream Island and worked as a shearers' cook in outback Queensland. This was followed up as cook with a shearing team working in outback Queensland. As a result of an advertisement for a cook on the RRS Discovery II, he was appointed as a Petty Officer cook in the Royal Navy Fleet Auxiliary, bound for a long scientific voyage in the Southern Ocean. Dick of course had never been at sea, but soon found his sea legs as the ship battled its way through the high latitudes, as it partially circumnavigated the Antarctic continent. The ship called in briefly at Heard Island in 1951 and during the Discovery II's later visit to Fremantle, Dick met Phil Law who encouraged him to apply for a position as a cook with ANARE. Dick subsequently joined as a Cook with the 1953 Expedition to Heard Island, followed up with the 1955 Mawson Expedition and the 1962 Expedition to Macquarie Island. Following his return, Dick worked in hospital catering and found time to complete 25 years' service in the Army Reserve. He retired in the 1980s and went farming down at Portland, before retiring to Melbourne with his wife Freda of 44 years, where he wrestles with the complexity of using an IPAD. Dick was awarded the Polar Medal in 1956.