Vale John Russell OAM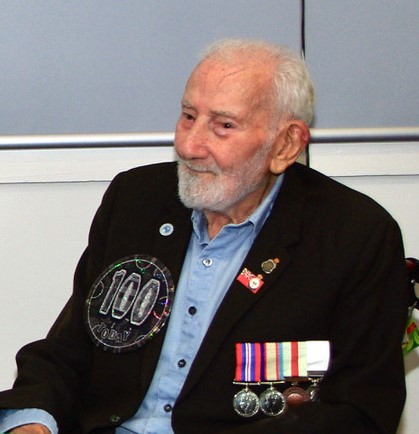 | | | |
| --- | --- | --- |
| Station | Year | Season |
| Macquarie Island | 1949 | Winter |
| Heard Island | 1952 | Winter |
| Mawson | 1954 | Winter |
It is with sadness that I inform the ANARE Club of the passing of John Russell, 19 Apr 2022. John would have turned 102 on 18th June 2022.
Phone call received from Trevor Luff, 19 Apr 2022
John Russell OAM
On 19th April 2022, John Russell OAM passed away peacefully in the company of his daughter, Sue Morgan, at Seabrook in Deception Bay. John would have turned 102 on 18 June.
During his working life as engineer and diesel mechanic, John spent four winters in Antarctica, serving on Macquarie Island in '49, Heard Island '52, Mawson '54 and McMurdo '59. Perhaps his most important expedition was to Mawson where he formed part of the 10-man team to survey and establish Australia's first permanent mainland base. He was the last surviving member of that party. Many of the buildings and machines designed by John are still in use today.
His fascination with Antarctica began when, at the age of eight, his headmaster at Dulwich Preparatory School took the boys over the road to Dulwich College to experience Leonard Hussey's magic lantern show of Shackleton's Endurance expedition. John read everything he could on the southern continent, then wrote to Lady Shackleton who invited him to afternoon tea. Aged 12, he rode his bike to spend a few hours with Sir Ernest's widow; an afternoon that set the course for his life.
As a young man, he migrated to Australia, studied engineering, befriended Douglas Mawson – all with one focus: to join ANARE. World War II intervened, delaying both his ambitions and the ANARE programme. John suffered typhoid fever, resulting in a tumour on his spine which rendered him inactive for 18 months. In 1956, John and his fellow Mawson expeditioners were awarded the Polar Medal at the Royal Society of Victoria in Melbourne.
Upon returning from Antarctica in 1959, he continued a long and productive career in engineering most notably with British Petroleum.
During his 99th year, Dale Jacobsen was given access to John's written memoirs and Trevor Luff's oral recordings of John, taken over a four-year period, and produced the memoir, Antarctic Engineer, documenting John's story. Trevor's introduction to the book tells of his association with John, and Antarctica:

"I am so overwhelmed by the depth and accuracy of this story and have no doubt anyone who picks up this book will read it through to the end without a break. I believe this style of story-telling, weaving corroborated, written facts with the oral and still-living story, creates such a personal and true account of the rigours of living life as an Antarctic Explorer. Many of the expeditioners John wintered with I knew first-hand and his story runs parallel with most of us who have also experienced the worries of leaving family behind and venturing into the mostly unknowns of the Antarctic.
Sue Morgan, John's daughter, grew up not knowing a lot of her dad's story until Joan, her mother, passed on. To quote Sue: she could not turn her dad off and began to realise his stories should be recorded and experienced by everyone.
Enter David Dodd in 2015, then ANARE Club Secretary, and his chance encounter with John on an Antarctic Overflight. David Dodd, always on the lookout for past and present fellow Antarctic travellers, soon brought me into the picture with our ANARE Club Oral History recordings project and suggested there was a story to be recorded and preserved.
After four years of recordings, I still go back to John whenever the chance presents itself and still the stories keep emerging.
Trevor Luff
(Mawson Station 1970)
Vice-President – ANARE Club Queensland
Last year, 2021, John was awarded an Order of Australia medal "For service to Australian Antarctic research expeditions as an engineer". He proudly displayed the gong alongside his war medals and British Polar Medal.
John never lived by the rules. Weeks before his passing, he told Sue he did not want any funeral, or any fuss. He had arranged for his remains to be used for medical science, and as far as John was concerned, that was an end to it. Sue did convince him to allow a small memorial near the cenotaph in his beloved Deception Bay. He agreed, but said he wouldn't attend. He was known for his humour.
A small group of people gathered by the Anzac Memorial at Deception Bay on Wednesday 4th May to honour John. They then crossed the road to cake and coffee at John's favourite coffee shop, right next to the library which was his second home.
John is survived by his daughter, Sue Morgan, step-sons David and Douglas Alton, six grandchildren and seven great-grandchildren.