Alf Argent -Enderby Land 76, 77
Vale Alf Argent
 -Enderby Land 76, 77
| | | |
| --- | --- | --- |
| Round Trip | ** | Summer |
| Enderby Land | 1976 | Summer Field |
| Enderby Land | 1977 | Summer Field |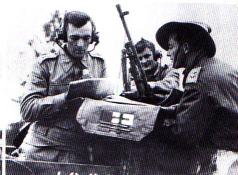 A detailed obituary from Joe Johnson can be found here.
Alf (on the right, in slouch hat) briefing his CO, Lt-Col C H Green, in Korea in 1951.
The photo appears in the official history:  Australia in the Korean War, Volume 2, page 24.
I see in today's papers that Alf Argent has passed away. Alf was Aviation Officer for the Division. I am sure he flew choppers in Vietnam among other things.
I remember him one day at Macquarie Island in '78 flying in for lunch when there was a pea soup fog and you could not even see the Nella Dan.
All I heard was the starting up of the chopper – no radio contact, nothing just warmed it up and next minute put it down on the isthmus. Email from Ralph Fletcher 24/9/14

Tribute from Doug Twigg – 29/9/14
He had an interesting career in the Army. In Sth Korea, Then joined the Army Aviation Group who taught him to fly all their machines, including Nomads, Choppers, etc.
He retired from the Army and then joined the Antarctic Division as Aviation Officer, replacing the late Bob Dalton. He was popular with Division staff, went on a few relief voyages as well as organising summer flying operations such as PCM, Oates Land and Enderby land.
Endeared by all AAD staff. He left the Division after the move to Hobart in 1980.
https://www.anareclub.org/wp-content/uploads/2020/07/ANARE-Club-logo-Web-1.png
0
0
anareoffice
https://www.anareclub.org/wp-content/uploads/2020/07/ANARE-Club-logo-Web-1.png
anareoffice
2020-07-24 06:56:53
2020-07-24 06:56:53
Alf Argent -Enderby Land 76, 77